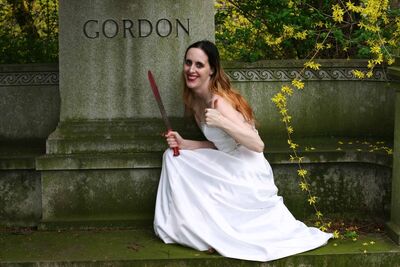 My name is Monica, I am a major Saw fan starting back in 04 when the first movie came out. Honestly, seeing the first movie I never thought it would become what it did but I am glad it happened.
All the movies are awesome except Saw VII which I don't even consider canon at this point. I am very anti-Gordonite and a HUGE Hoffy Bunny so that's basically my stance on that.
Other than the Original Saw movie, the 6th would have to be my favorite and I would have much preferred they ended it there than how they actually ended it with that stupid Gordonite Fan Pleaser pile of crap. Anyway, I am open for debate and love to discuss the movies, so if you are a Gordonite feel free to approach me as I can handle a mature discussion on the subject. My sister and best friend is a Gordonite and her and I get along just fine.
I am 27 years old, an aspiring horror novelist and screenplay writer. Some of my work can be found on the creepypasta wiki as well as my own blog dedicated to horror. I am learning a new graphics program and am getting better and better at manipulations and art.
I love any and all Saw fans from the casual to the hard core so if you feel you need to say something to me go ahead! I don't bite too hard.
Links To My Other Sites
A New Way To Bleed: How I learned To Bleed An Aspiring Horror Novelist's Blog
La Petite Morte (My only Saw Fan Fiction To Date)
Creepypasta Account Page (With More info about me on it)
Community content is available under
CC-BY-SA
unless otherwise noted.