WELCOME TO THE SAW WIKI
Hello,

Jigsaw followers

. Welcome to the Saw Wiki, a wiki that serves as a collaborative encyclopedia of information and details on the iconic horror franchise, Saw. The Saw Wiki started in September of 2006, and currently has 20 users and 2 admins maintaining 619 articles. We are always searching for new disciples to continue our legacy and make this wiki as detailed and informative as possible. If you'd like to join our horde, feel free to help by creating or editing articles, but before you do so, be sure to read our policies to obtain the rules of your test. Thanks for visiting, and let the games begin.
Warning: Oh yes, there will be blood. This wiki contains graphic and disturbing content, so please continue browsing at your own risk.
Today is July 19, 2019, and there are 54,486 edits on this wiki.
FEATURED ARTICLE
Amanda Young, also known as Mandy, is a fictional character from the Saw franchise, as well as the secondary antagonist of Saw III. She is portrayed by Shawnee Smith.
Amanda Young was an average woman until she became involved in a drug crime. Even though she was innocent, she was framed by the leading detective Eric Matthews, who faked the evidence against her, and therefore caused her to be sentenced for drug possession. During her time in jail, she actually became addicted to heroin. When Amanda was finally released, she became a patient at the Homeward Bound Clinic, a recovery clinic for drug addicts led by Jill Tuck, where she made acquaintance with another patient, Cecil Adams, and soon became his girlfriend. Jill tried her best to help Amanda overcome her addiction, but despite all her efforts, she eventually gave up on Amanda, thinking that she was a "lost soul".
Some time later, Amanda was abducted by the serial killer known to the public as Jigsaw, who was the ex-husband of Jill Tuck and father of her miscarried son, Gideon. When she woke up, she found herself to be strapped to a chair with a metallic device placed on her head. She immediately panicked and tried to free herself from the chair but stopped when a TV turned on next to her. A mechanic ventriloquist puppet appeared on the screen and told her that the device on her head was hooked into her upper and lower jaw and would rip her head apart if she didn't manage to free herself within 60 seconds. It also revealed that the only key was in the stomach of her supposedly dead cellmate.
HELPING OUT
Our goal at Saw Wiki is to collaborate with other fans in order to build an accurate database detailing the characters, traps, and storylines of the entire Saw franchise. All are welcome to join in and contribute here, as long as edits are constructive, discussions are positive, and all information is relevant to the series.

We are currently housing 619 articles and 4,203 files.
We have a growing community of 20 users, but the last piece of the puzzle is YOU.

To join our legacy, please sign up to create a FREE personal account, or log in if you already have one.

If you're new to Fandom, please use the above links to get started.
If you're experienced with editing and have already read over the rules of your test, you can use the box below to contribute a Saw related article:

If you're looking to help with cleanup, you can start here: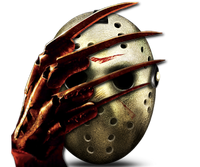 COUNTDOWN

Saw IX will hit theaters in
October 23, 2020
It's not over yet.
QUOTE
"

Live or die. Make your choice.

"

— Jigsaw
POLLS
What did you think of the Jigsaw film?
What is the best Saw movie?
Who is your favorite antagonist?
DISCORD
If you see this, your JavaScript might be disabled or DiscordIntegrator plugin isn't working. If the latter, please contact a wiki administrator.
BLOGS
Create blog post
Okay i wondered this for very long now.. If Jeff didn't kill John what would happened? I mean he is lying in the bed dying so who can show the way to his daughter? Hoffman? Gordon? LOGAN?  And what w…

Read more >

Lately, my head is full of saw traps design and I wanted to know if some of you guys have an idea that I could try designing on paper for you, that would be amazing...😅 I know that sounds weird but h…

Read more >
See more >
Community content is available under
CC-BY-SA
unless otherwise noted.