"
So, Larkie here is gonna be editing my masterwork.
"

— Scott Tibbs introduces Lark to his audience
Lark, also known as Larkie, is a fictional character from the Saw franchise as well as a minor character of The Scott Tibbs Documentary. He was portrayed by Danny Kitz.
Biography
Lark was a young man and a member of the rock band "Wrath of the Gods". When Adam Stanheight, the best friend of the psychotic band leader, Scott Tibbs, disappeared, the latter came to the conclusion that his friend was most likely dead. As he suspected the serial killer Jigsaw, he didn't care much about Adam but became obsessed with the killer and started to admire him. Therefore, he and his band decided to film a documentary to find out more about the killer. While filming, Lark took on the job as the editor.
While they managed to gain some information about the killer, who was in fact a terminal cancer patient named John Kramer, the documentary quickly came to a standstill as Scott became obsessed with the killer and therefore started to harrass the people he wanted to interview, who in return refused to talk to him. Eventually, Scott's obsession grew worse to the point where he decided to test himself in a trap, like Jigsaw did it with his victims, in order to prove that surviving a traumatic experience like this could make one stronger.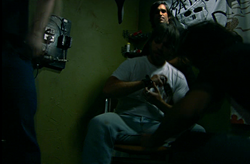 Along with Lark and his friends, he designed and built a primitive trap on his own. While being duct-taped to a chair, Scott had to shove his fingers into a shredder placed behind him. If he didn't managed to do so, an axe would swing down from the ceiling and hit his chest. After testing the trap, Scott told his friends to duct-tape him, but after doing so, they gagged him and left the room. Therefore, Scott started to panic. He managed to free his hands, but was still held back by the tape around his chest. In his fear and anger, he yelled at his friends and threatened them. As they took the camera with them when they left the room, it remained unknown if Scott survived his trap. However, due to his rude, psychotic and narcissistic behavior, Lark and the others didn't care about his fate and were more interested in discussing who should be the new leader of their band. (The Scott Tibbs Documentary)
Personality
Not much can be said about Lark's personality due to his short screen time. However, it can be assumed that he didn't like Scott Tibbs very much.
Appearances and References
Community content is available under
CC-BY-SA
unless otherwise noted.