"
Is held in high esteem by the members of the Metropolitan Police Department in recognition of his going above and beyond the call of duty.
"

— The words written on the plaque
Hoffman's Honor Plaque is an item in the Saw franchise, primarily appearing in Saw V.
History
Mark Hoffman's Promotion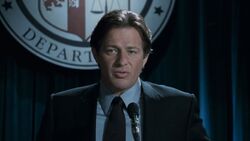 Mark Hoffman was a homicide detective working for the Metropolitan Police Department and one of those who were involved in the case of serial killer John Kramer, better known as the Jigsaw Killer, from the beginning. Following the deaths of John and his apprentice, Amanda Young, at the hands of Jeff Denlon, another one of their victims, Hoffman was the only surviving member of his department who worked on the case right from the start. Shortly afterwards, the Chief of Police gave a speech to the police and the press during a memorial ceremony for Hoffman as well as his deceased colleagues and thereby proudly announced that the Jigsaw killings had come to an end. Additionally, he promoted Hoffman to the rank of a Detective Lieutenant and thereby handed him an honor plaque for his efforts in the case. Hoffman gave thanks to him for this honor and also gave a speech to the press as well, claiming that he and his colleagues had done their best to serve true justice. After the memorial, Hoffman returned to his office and placed his honor plaque on a shelf next to a picture of his deceased sister, Angelina Acomb. (Saw III, V)
Appearances and References
Community content is available under
CC-BY-SA
unless otherwise noted.