"
Over the last two hours, it seems our entire city has been shaken to its core
"

— The news channels inform the public about Hoffman's APB
The Hangar is a fictional location from the Saw franchise, as well as a minor location in Saw IV and 3D.
History
Mark Hoffman's Hideout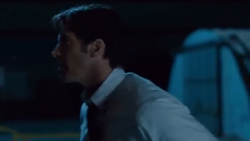 The hangar was a large, isolated building belonging to Detective Mark Hoffman, successor of the late John Kramer, better known as the Jigsaw Killer. The hangar was located near the abandoned Gideon Meatpacking Plant, where it was ultimately never noticed by police, despite the several games that took place at the plant. (Saw IV, 3D)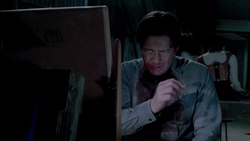 After being severely injured by John's ex-wife, Jill Tuck, who had placed him in a vicious trap, Hoffman retreated to the hangar to take care of his wounds as the trap had torn his right cheek apart. Upon entering the hangar, Hoffman immediately grabbed a crate with medical supplies. While he stitched up his wound in front of a mirror, he listened to a news report on the TV, according to which up to seven people might have survived a gruesome massacre at the abandoned Rowan Zoological Institute, which was the location of Hoffman latest deadly game. Despite being in horrible pain, Hoffman was able to successfully treat his wounds. Assuming that soon afterwards everyone would know his identity, Hoffman anticipated that he would have to go into hiding for a long period of time. Therefore, he burned all of his identification documents and smashed his cell phone with a hammer, making it impossible for anyone to locate his position. After that, he began to plan his revenge on Jill Tuck. (Saw VI, 3D)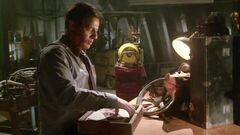 As he expected her to be taken into protective custody, Hoffman planned to put the police forces under pressure in order to get to her. In a safe in his hangar, he had the files for a game that John had ordered him to set up at some point prior to his death. This game focused on Bobby Dagen, an author who had earned much fame and wealth by lying that he was a survivor of one of Jigsaw's traps. Soon afterwards, Hoffman found out that Jill had told Officer Matt Gibson about him. Therefore, Hoffman went to the abandoned Clear Dawn Psychiatric Hospital where he set up the games for Bobby, his wife, Joyce Dagen, and his crew. (Saw 3D)
Flight
Throughout the next weeks, Hoffman put the last phase of his plan into operation and was finally able to infiltrate the police station, where he brutally murdered several of his former colleagues as well as Jill Tuck. Following his massacre at the police station and his successful revenge, Hoffman quickly went back to his hideout in the hangar. When he arrived, the news channels already reported the death of Jill and the many officers. Furthermore, they instructed the public that the city was shut down and appealed to them to contact the police if they had any information leading to Mark Hoffman. Therefore, he knew that he had to prepare his flight quickly. He packed a purse with a gun and a bunch of money. After that, he turned on some gas bottles kept in the hangar, poured gasoline all over the floor and ultimately set the hangar on fire, thereby destroying all evidence left in the building. (Saw 3D)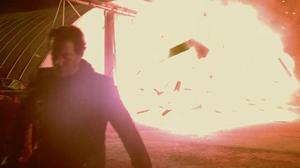 Moments before the explosion, Hoffman left the hangar. However, he was suddenly attacked by two pig-masked figures. As they grabbed him and held him up, a third man approached and injected him with an anesthetic, causing him to collapse. When he lay on the ground, the man revealed himself to be Dr. Lawrence Gordon, John's oncologist who had secretly become another one of John's apprentices after surviving one of his games on his own. Moments later, Hoffman passed out from the anesthetic and was taken to a dilapidated underground bathroom, where Gordon's game had taken place long ago. (Saw, Saw 3D)
Community content is available under
CC-BY-SA
unless otherwise noted.