Ezekiel Banks Test is one of Jigsaw's games from the Saw franchise, appearing in Spiral.
History
This trap is similar to the Bathroom Trap, but instead of the victim having their leg chained, their hand is chained instead. In order for the victim to escape, they have to cut off their hand with a hacksaw. This trap is set up by William Emmerson as a way to recruit Ezekiel Banks, William Schenk devised a trial for him to traverse through. (Spiral)
First Test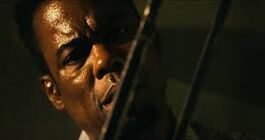 Ezekiel Banks's first test was to get out of handcuffs that were attached to a metal pipe by using the hacksaw on the floor near him. Ezekiel initially is about to cut his trapped arm with it. However, a bobby pin was conveniently placed near him, so he was able to escape the trap without harm. (Spiral)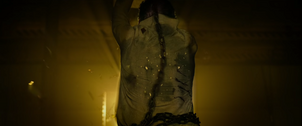 "
Hello, Detective Banks. I want to play a game. When Peter Dunleavy murdered an innocent man, your career was shattered like glass. Can you stand on the sidelines while justice is finally served? There is a way to save him, or you can keep him locked up and throw away the key. The decision is yours.
"

— Ezekiel's tape
Ezekiel Banks's second test is to save his ex-partner, Peter Dunleavy, the victim of the Glass Grinder trap. If Ezekiel seeks to release him, he must find the key to the chain. However, Ezekiel is supposed to not save him, in order for justice to be enacted. If he does not find the key, his ex-partner will die. Ezekiel ended up trying to save Peter anyway, however Peter succumbed to his wounds despite Ezekiel's effort. (Spiral)
Third Test
Ezekiel Banks's third test is to choose whether he will help target cops with William Schenk. However it does not matter what he chooses, he will go to the last test but after the final test, there will be a difference result based on his choice. Ezekiel pretends to accept William's offer to find his father, and William takes him to his next test. (Spiral)
Ezekiel Banks's final test is to save his father, Marcus Banks, who is attached to a trap that slowly drains his blood via an IV drip. Ezekiel then given the choice by William Schenk, the Jigsaw killer in question to either shoot a target to free Marcus, but allows William to escape. Or he could kill Schenk, but also letting Marcus died due to blood loss. William also mentioned that he had called SWAT team before hands to free him. (Spiral)
Aftermath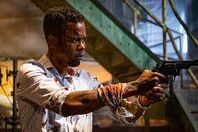 Ezekiel ended up shooting the target to free his dad. William tries to escape on a cargo elevator, only to Ezekiel starting to beating him up in order to delay him until the SWAT team arrive. The SWAT team finally arrived at the location, and noticing the sealed door, starting to cut it. However, this action unknowingly also activates Marcus trap to it's final phase due to the wires connected to the door, which Marcus didn't realize until it was too late. As the SWAT team enters and held Ezekiel at gunpoint, Marcus body was raised by the harness, several search lights turned on behind him and a shotgun become affixed to his right hand by a mechanism, which latter raised forward. The SWAT team, believing that Marcus is attempting to shoot them, immediately barrages him with bullets until he was dead, much to Ezekiel's terror.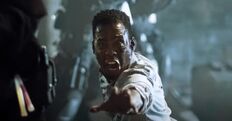 Unbeknownst to the SWAT team, William safely escapes and descending with the cargo elevator. As Ezekiel helplessly watched, William signaling him to stay quiet, ironically mimicking how Marcus doing the same action to him years ago. Ezekiel screamed in anguish as the film ends, leaving his fate unknown. (Spiral)
Trivia
It is unknown what happened to Ezekiel after his game.